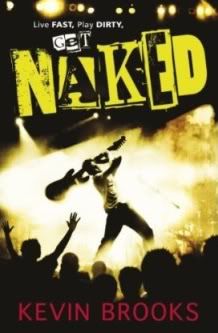 Title:
Naked by Kevin Brooks
Publisher:
Razorbill UK (Penguin)
Publication Date: 6th October, 2011
London, 1976: a summer of chaos, punk, love ...and the boy they called Billy the Kid. It was the summer of so many things. Heat and violence, love and hate, heaven and hell. It was the time I met William Bonney - the boy from Belfast known as Billy the Kid. I've kept William's secrets for a long time, but now things have changed and I have to tell the truth. But I can't begin until I've told you about Curtis Ray. Hip, cool, rebellious Curtis Ray. Without Curtis, there wouldn't be a story to tell. It's the story of our band, of life and death ...and everything in between. This characteristically gripping novel from award-winning author Kevin Brooks will rock you to the core.
Um, Kevin Brooks. I've read nearly every one of his books and loved them. I wasn't too sure about NAKED, because I wasn't sure if the synopsis sounded like something I'd usually read, but I thought I'd request it and give it ago because it's KEVIN BROOKS. And seriously, with a title like NAKED, and a front cover (of the ARC that I read) that is just black with the words "Live fast, play dirty, get naked" in a rather large and excitable font, I'd have to tell be honest and tell you I was more than a bit intrigued! (which might be why I started to read in in my English. And my teacher didn't say ANYTHING. He is awesome.)


I wasn't expecting it to be THIS AWESOME. First of all, I'm not a person who knows much about punk, I'm really not, but Brooks made me feel like I'd been in love with it since I was a teeny tiny baby. And the SETTING. From the first first paragraph, I fell in love. The writing was full of passion, and tension and reading it felt almost indulgent (if you know what I mean by that. I don't expect you to though). The spirit of the seventies was captured so perfectly - it didn't take me long to actually feel like I had had gone back in time. I think it may have to be my favourite of all his novels.


The characters were written so beautifully, they were almost too good to be true. I managed to both hate Curtis and be absolutely mesmerized by him at the same time. Lili too, but not the hate part. Curtis found her and showed her around the music world, took her behind the scenes and let her live the glamour of being in a band like Naked. Introduced her to drugs and drink until she was a completely different person to the innocent girl we met on the very first page. But it was William who stole my heart. From the moment he appeared on the scene I knew that he should be the one to have Lili. She thought that Curtis had changed her life, but it was nothing in comparison to the way Billy did, and that was just pure magic in itself.

It's not a secret that Kevin Brooks writes about difficult topics, and that's the part that makes me love his novels so much. In NAKED especially, there's secrets, and violence, and it's crazy, in the best possible meaning of the word!

NAKED tells the story of Lili's experience in the summer of '76; it's gritty and intense and edgy and so, so unique. Kevin Brooks will forever be one of my favouritest authors. Especially when he writes from a female's perspective (LUCAS LOVE). This is a story that I promise will not be one you'll forget.