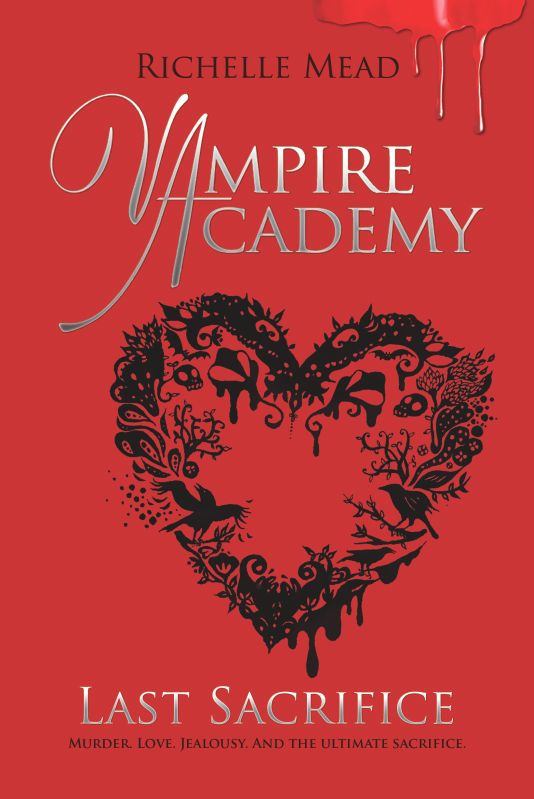 Vampire Academy: Last Sacrifice
Author:
Richelle Mead
Pages:
608
Publisher: Puffin
Publication Date:
7th December 2010 (Today. My Birthday :D)
Paperback.
The final heart wrenching episode at St Vladimir's Academy. Rose is on trial for high treason and
the death of Queen Tatiana. Someone is trying to frame her and it looks like even Dimitri might not be able to save her now.
Honestly, I don't know if a series has ever made such a huge impact on me like Vampire Academy did. Really guys, everything I've said about these books in my reviews I *really* mean. From the bottom of my heart..aw shucks *tears up*
The last book in the worldwide bestselling series, Last Sacrifice had a LOT to live up to. I'm so grateful for Richelle Mead for not letting me down because what did I think of Last Sacrifice? *insert the bestest, coolest, awesomest adjective in the world* YEAH.
Rose has been accused of killing the queen and I love her determination to *really* do something about it! Because, not only does it involve her breaking out of jail, but includes having to commit another number of serious crimes to do it..but she's not phased by it at all. She IS going to find out who killed Tatiana and get herself in the clear. And hopefully get Dimitri to change his mind about his feelings for her as well.
Throughout the whole series, Rose has been such a fantastic heroine and I've had such an amazing time getting to know her and accompanying her on her journey of (mostly) (good) madness. There's so much to love about her; I admire her the most for being so loyal to Lissa and all of her other friends. She's there for them always and will go to any length to protect them from harm's way. Plus dude, have you SEEN the girl fighting?! *is in awe* Then there's her hilarious sense of humour, her wit, and uhh..DIMITRI. (I realise this does not go here but it's my reviewand I don't care! Dimitri <3)
Dimitri. I'm am so stuck for words to describe him it's unbelievable. I think together, him and Rose have to be my favourite fictional couple (well, kinda) EVER. I adore Dimitri's passion and intensity and don't tell me you don't hear his butter-melting voice speaking when you read his parts? Because I certainly do! Russian accents FTW!
Rose getting framed for killing the queen?! I have to say that was a pretty damn awesome storyline from Mead! I hated Tatiana at first, I thought she was horrible to Rose and I hated how much she looked down on her. But Spirit Bound was where we got to see her more clearly, and I was shocked when she was killed! By the end of SB, I felt sorry for her, she turned out to be quite a good person, [Ambrose (and Adrian) made sure everybody knew about that!] even though she came across a Class A b*tch.
Thinking back about the Queen's murderer now, that was a really hard one! I don't think there were many clues leading to this person because seriously..WHAT?! I still can't believe it was this person..it's like, "IT CAN'T BE!!" But it is. I would never in a million years suspect anything because it is not like them to *murder* someone. Maybe I didn't suspect anything because I can be considered a bit slow sometimes, but I don't think that's it! I'm just not observant enough.
The whole of Last Sacrifice is packed with action, drama and..I really can't find the right words to describe it.
I'm MEGAMEGA excited for the new spin-off series! I'm looking forward to what is happening with everyone and hopefully meeting some new characters as well as the gorgeous old ones!
*UPDATE* I may or may not have just seen an interview where Richelle Mead talks a bit about Bloodlines in an interview..@reply me or email me if you want to know!
That last scene (the one when Rose made her grand entrance)..oh my God, that last scene was kickass. I did NOT except that AT ALL. * hyperventilates*
Richelle Mead got my heart racing, tears falling, and brain going into serious overdrive. I want to thank her for writing my favouritest series in the whole wide world *bows..or curtsies*
Needless to say, I loved Last Sacrifice. And I am off to read it againandagainandagain BECAUSE I CAN. And because it's my birthday :)