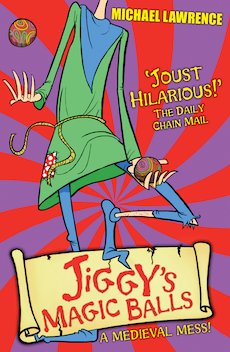 Pages:
160
Publisher:
Orchard
Publication Date:
2nd September 2010
Quick read.
In the Jiggy's Genes series we will meet a whole host of Jiggy's ancestors and discover that, through centuries past, there have always been Jiggys!

It's not easy being a peasant. Jiggy's medieval life is one dirty dung heap of trouble after another. Worse, he has to work for the dumbest Knight in the land, Sir Bozo de Beurk. But when Jiggy discovers a pair of magic balls, his fortunes might be about to change...
Haha, I laughed when I opened a package to find this book inside! When I was a bit younger and eager for interesting and fun books all the time, I came across Michael Lawrence of the 'Jiggy McCue' fame. I read ALL of his books and loved them! Although they may be a *wee* bit young for me now, they are still really cute reads but not sure if they are still my thing! May have grown out of them!
I was excited to hear about this new, fresh spin-off series about Jiggy McCue. It's Jiggy's birthday and instead of the shield-y thing he thought he was getting, he is given a piece of paper. But this is no ordinary piece of paper! The paper claims that GIT (Genetic Investigations in time) can trace back hundreds and thousands of Jiggy's ancestors, and more importantly, the ones that have the very exact arrangement of DNA: which means they are basically his identical twins who lived a very long time ago! They have the same personalities and are like Jiggy McCue in every single way possible. Things could start to get a *little* crazy. More Jiggy's?!
And thus we are thrown into the muddy life of Jiggy's great ancestor: 15th Century Jiggy!
An
incredibly
witty, enjoyable read, after just a few pages, you can't help but love this crazy character who is Jiggy McCue (or in this book, his ancestor - 15th Century Jiggy!)
If you're between 7 and 12 years old, I'd recommend you start this awesome series, I guarantee there will be a lot of laughing going on!