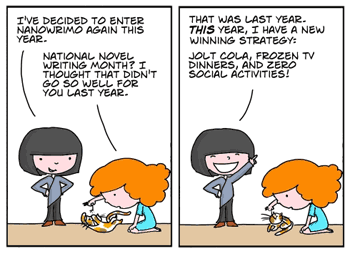 What is NaNoWriMo?
NaNoWriMo stands for Nation Novel-Writing Month.
What:
Writing one 50,000-word novel from scratch in a month's time.
Who:
You! We can't do this unless we have some other people trying it as well. Let's write laughably awful yet lengthy prose together.
Why:
The reasons are endless! To actively participate in one of our era's most enchanting art forms! To write without having to obsess over quality. To be able to make obscure references to passages from our novels at parties. To be able to mock real novelists who dawdle on and on, taking far longer than 30 days to produce their work.
Hehe xD
When:
You can sign up anytime to add your name to the roster and browse the forums. Writing beginson November 1st. To be added to the official list of winners, you must reach the 50,00-word mark by November 30th at midnight. Once your novel has been verified by our web-based team of robotic word counters, the partying begins.
***
Last year I came across NaNoWriMo. Joined, but never got round to doing it because I was too busy. This year, I promised myself I
would
do it. I have an outline, characters, all that basic stuff you need to write a book, which I got together last year. The thing is, I have school. Which translates into:
Iffath will not do any homework and concentrate on writingwritingwriting and blogging and not do any revision/homework, therefore failing her early entry GCSE and being disowned by her family.
Half of which she has already started to do. (and I was joking about the disowning part, I'm pretty sure they've already thought about it putting it into action sometime soon hehe :D)
So, doing homework and whatever else I have to do to get a good grade
and
50,000 words just isn't going to work for me. Then I had a brainwave. THE OTHER ONE! You know, what I mean by that, don't you? The NaNoWriMo's Young Writer's Program! There isn't a huge difference, except you can set your own word-count goal!! My goal is to try and reach 25,000. Which I know I won't be able to do in a million years. :/ But at least it's easier than 50,000!
Since I'm signed up to both, I will use both of them, but will mainly be writing from the Young Writer's one. Leave your usernames in the comments and I'll add you :) I'm
cryyourheartout1
/YWP:
cryyourheartout1
♥Iffath