Blood Feud
Author:
Alyxandra Harvey
Pages:
272
Publisher:
Bloomsbury Publishing
Publication Date:
5th July 2010
Paperback.
From Amazon
It has been centuries since Isabeau St. Croix survived the French Revolution. Now she's made her way back to the living and must face the ultimate test by confronting the evil British lord who turned her into a vampire and left her buried for two hundred years. That's if she can control her affection for Logan Drake, a vampire whose bite is as sweet as the revenge she seeks...
I was immensely excited for the second installment in the Drake Chronicles and I know a lot of you are excited for it too!
Blood Feud
picks up just under two weeks after My Love Lies Bleeding ends, and times are really quite tough for the Drake's. With Lady Natasha gone, the courts are preparing for Helena's coronation, and everything is not as easy as it sounds.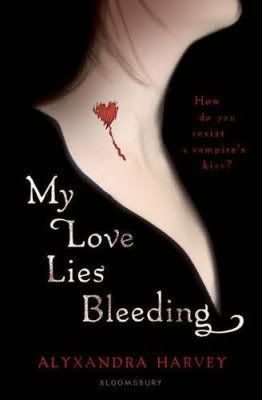 In
Blood Feud
, we meet Isabeau St. Croix (awesome name!), who you might faintly recognize from the ending of
My Love Lies Bleeding
. Isabeau is a Hound, left for dead in a coffin for about two hundred years by Greyhaven. Isabeau has waited a very long time waiting to get her revenge on Greyhaven, but her plan isn't left *exactly* intact when she is required to join forces with the Drakes' and fight against Montmartre, who's
still
after Solange to be his Vampire bride. Logan is also a narrator, the
fashionable
brother - of Solange - older by just two years, but a lot older in his chosen style of clothing - dressing daily in some form of frills and/or frocks.
Blood Feud
is told from the perspective of both Logan and Isabeau. Logan's parts were full of humour, I couldn't stop laughing at the really cute, sweet things he kept saying! Isabeau's bit was more shy, and weary almost. I warmed to Isabeau immediately. Her chapters on the distressing past she had, were exquisite. I loved reading her fascinating story, and the historical characteristics were perfect. I liked how much we got to know Isabeau, and how strongly she was depicted; I really understood why she was such an angry fighter, so enthused, so ambitious.
They made such a gorgeous couple together, I was so relieved when Isabeau finally came to her senses about her feelings! They have a really powerful connection ;D Although, like
Dwayne
, I am still on Team Lucy-Nicholas!
The narrative doesn't alternate in the point of view every time, but given in 'chunks'. I noted there were numerous chapters from Isabeu's angle, and then several from Logan. In Isabeau's parts, there were flashbacks woven into the narrative, which I thought gave her lots of character. Although some of the things I learnt made my skin *crawl*. I might just add that there is quite a lot of dramatic representation on her part. Quite detailed. And gory.
Blood Feud
is a light-hearted, witty novel with an action-packed plot, Harvey presents us with an energetic, fun sequel to
My Love Lies Bleeding
and I shall definitely be looking forward to next book in the Drake chronicles,
Out For Blood
(out November 2010.
Buy this book.
Visit the author's website.
Visit the book 's website.
♥Iffath