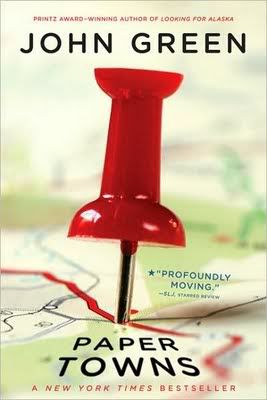 Paper Towns by John Green
Pages:
320
Publisher:
Bloomsbury Publishing
Publication Date:
3rd May 2010
Paperback.
From Amazon
Who is the real Margo? Quentin Jacobsen has spent a lifetime loving the magnificently adventurous Margo Roth Spiegelman from afar. So when she cracks open a window and climbs into his life - dressed like a ninja and summoning him for an ingenious campaign of revenge - he follows. After their all-nighter ends and a new day breaks, Q arrives at school to discover that Margo, always an enigma, has now become a mystery. She has disappeared. Q soon learns that there are clues in her disappearance ...and they are for him. Trailing Margo's disconnected path across the USA, the closer Q gets, the less sure he is of who he is looking for.
So, I have heard SO MUCH about John Green this year. Everyone is going on about Will Grayson Will Grayson that he wrote with David Levithan, which sounds quite interesting actually! I must pick it up sometime soon..
So okay, after all this legendary talk, I was happy when the fantastic Emma at Bloomsbury sent me a review copy! Now, to see what all the fuss was about. This book better be good, Green! All the hype, all the talk, let's see what you can do! I admit I was expecting VERY highly of this book, and okay, I probably say this in every single review I write, but wow, I was impressed!
Paper Towns didn't look like my type of book, but I seriously couldn't out it down! The amount of times I got in trouble for reading in class!
To everyone else, Margo Roth Spiegelman is portrayed as daring, eccentric, and intelligent as well as very popular. So it's a complete and utter mystery when Margo tiptoes into Quentin Jacobsen's room one magnificent night and forces him to be her partner in crime in a wild adventure of revenge. And Q finally can't help but believe she has turned a new leaf, and that, just maybe, he can be a part of the glorious creation that is the beautiful Margo's life.
After the night is over, all of Quentin's dreams fall to the ground when he discovers that Margo has disappeared. Her parents and the police are convinced that it's just another one stunts, but Quentin is committed to believe that there's still something missing in this so-called 'stunt'. There is a string of clues, another for each one he solves, that Margo has left him, that might just lead him to her. In all the years he's known her, Margo has never been such a mystery, and although he wants,
needs
, to find her, Q's scared about the secrets and truths he will uncover.
Margo takes Quentin on an exciting journey of revenge, humour, dishonesty and longing for a confused acquaintance.
John Green gives his readers a surprising tale in Paper Towns, with artful twists in every chapter. His writing is charismatic and enchanting from beginning to end. Green has the ability and talent for enhancing every little thing and creating characters that progressed through this enthralling tale, so much it is silently questioned if this is possible or not.
I loved the references to the poem Song of Myself by Walt Whitman, which is featured and highlighted, and analysed in the book, Leaves of Grass, that Margo has left behind. It illustrates the book, the poem so beautiful, it just about sums up the premise of Paper Towns.
Paper Towns is a supenseful, quirky mystery that will have you laughing out loud with it's razor-sharp wit, poetic speeches and will lead you towards the road to self-discovery.
People, seriously, go buy this book, - and remember,
DFTBA
! :D
Buy this book.
Visit the author's website.
BUY THIS BOOK.
♥Iffath